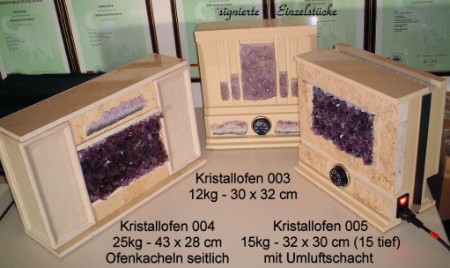 Future Perspective: Heating With Crystals?
The Last Days of the Oil Era - by R. Dubrikow, 2009

"In every ending there is the magic of a new beginning" – this one will not be so magical, though.
Since the majority of our oil reserves is misused as heating oil, this could be the cause of a reasonable new beginning by heating with crystals (electric, extremely low current consumption).
This recently handed in patent (crystal heater = turbulent, electric radiation heater)
could actually produce such new magic, as this heat represents a particularly healthier heating than it has ever been possible with oil. This may also work with artificial crystal-inserts (producer not found yet) like with natural ones, which after all stand for the perfection of our creation. We intent to implement this patent on a world-wide scale in a fast and versatile way.
This could set a positive signal, so that the last oil reserves will still be available for our descendants.

Currently this patent is registered in Germany DPMA: 02.03.09 AZ: 10 2009 011 282.0

Mode of operation: the heating fronts are improved by crystal plate inserts so far that an effect similar to that on the surface of the sun is created. These radiating and differently sized crystals produce heat waves overlapping each other, which results in a turbulent radiation surface.
This way these waves pushing and overlapping each other produce a room-filling and improved energy and radiation performance. Our prototypes (type MX, approx. 15 kg and lasting for 12-15 m² rooms) produce up to 150°C at incredible 250 watt (two hundred fifty!).
Applicable for almost all stone and electric heaters.
CONCLUSION: the future belongs to the turbulent radiation heater = crystal heater.
Its will immediately produce MANY workplaces in all over the world. Due to the extremely low consumption of electricity it is twice as interesting, especially because in the near future home-owners will be forced to produce electricity pro rata (upcoming, probable legal requirements).
Currently this patent is only registered in Germany.
I offer this, because we need innovations like this – immediately.
Go to: www.gruftiearbeit.de for more pictures and details.
Requests (best) in German, please, in order to avoid misconceptions.

Operation:
Course of instruction

http://www.umweltbildungsportal.de/homepagekalender/uport_eventdetail.php?master_id=30962
Send a person I can teach how to build a crystal heater.
After approx. some days she/he will return to your place with all the required knowledge and some crystal heaters.
"A good solution for a better world"

German: Heizungsratgeber, Internetbericht: ...seit September des vergangenen Jahres ist ein Patent auf eine neuartige Weiterentwicklung von Infrarot- und Steinheizungen angemeldet: Die Kristallheizung. Vor allem aber wenn es um das Empfinden der Wärme geht, haben Kristallöfen ihren Konkurrenten etwas voraus...:http://www.heizungsratgeber.info/Blog/Kristallheizungen-holen-die-Sonne-ins-Zimmer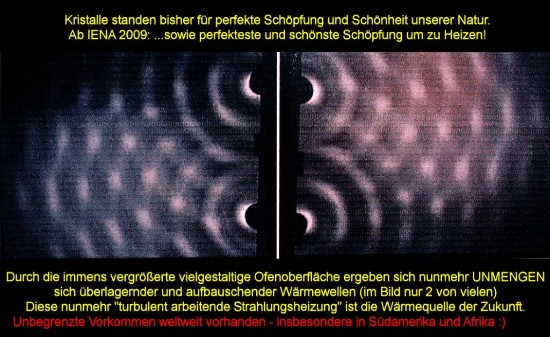 NEW INNOVATION: Solar cell with the largest possible surface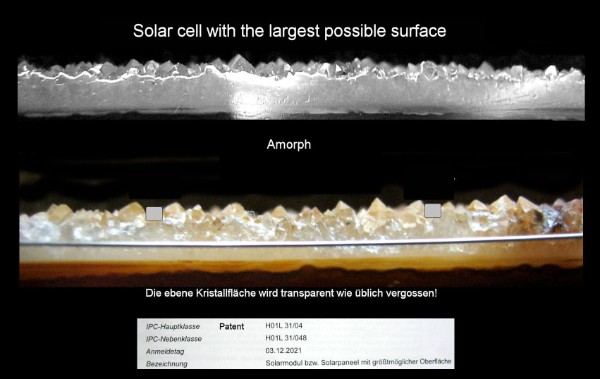 https://pressnetwork.de/solarzelle-mit-groesstmoeglicher-oberflaeche-dpma/