History: 2009 Germany Update: 2018.01.01 2014 UNITED STATES
2017 and 2018 :Licensing WORLDWIDE. Special Offer: USA, Canada, Australia and Japan: Workshop(s) & Original Soundtrack
Crystalheater 001 + crystal-technology - first presentation: 2009
INTERNATIONAL FAIR TRADE "IDEAS-INVENTIONS-NEW PRODUCT", Germany
Presentation 2011: ESOTERIKMESSE, Meistersingerhalle, Nürnberg, Germany

http://www.patent-de.com/20100909/DE102009011282A1.html Future perspective: heating with crystal-energy
WORKSHOP (Begleitmusik als CD) Original Sound
ORDER (Bestellungen, bitte direkt über): www.costaverdeproduction.com
Test it (only the first song): https://www.youtube.com/watch?v=NijBot3ZbJU&list=RDNijBot3ZbJU#t=91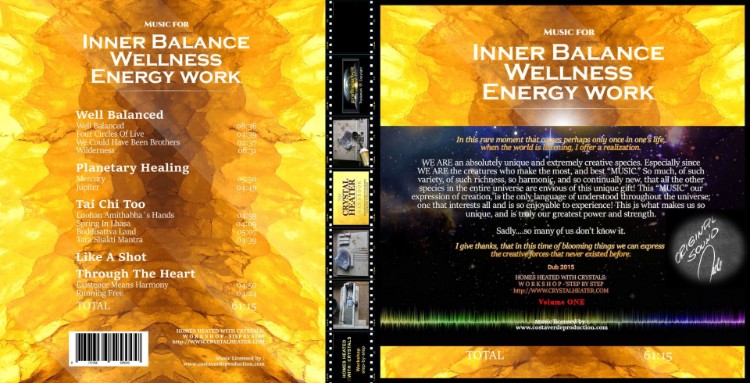 In this rare moment that comes perhaps only once in one's life, when the world is listening, I offer a realization. WE are an absolutely unique and extremely creative species. Especially since WE are the creatures who make the most, and best, "MUSIC". So much, of such variety, of such richness, so harmonic, and so continually new, that all the other species in the entire universe are envious of this unique gift! This "music," our expression of creation, is the only language understood throughout the universe; one that interests all and is so enjoyable to experience! This is what makes us so unique, and is truly our greatest power and strength! Sadly….so many of us don't know it.
I give thanks, that in this time of blooming things we can express the creative forces that never existed before. Rainer Dubrikow - 2015
Licensing for USA, Canada, Australia and Japan (Music & Workshop)
Book 1: Bauanleitung für Lizenznehmer (in German) - Version 2009 and in English 2015 (Picture) Heater: MX & SL
Book 2: Build your own "low energy" Heater: NPU (Nonplusultra) - Version 2015
Book 3: Build your own "low energy" Heater: The Crystal Heater Handbook - Version 2017
Book 4: Build your own "low energy" Heater: XM & XX (The Gold Medal Winner) & XSL - Version 2018
I. Creating Jobs in Crisis Regions
I offer to allocate FREE LICENSES for Africa and other economically weaker regions. Production is handicraft in and for your country.
All it takes is good handicraft. One person can produce up to 500 ovens a year. This is not a lot for one country. Especially when it is destroyed like for example Syria.
Therefore, many "normal people" can do this fulfilling home-based work on-site. All that is needed are good building instructions, some technical equipment, quartz sand and tiles. Instructions for different heater models were only available in German and "on-site" in Germany - until now. But now we also have them in English and on a CD for you to use at home. This will offer perspective and provide work for some people in their own home countries… fulfilling work!
Because almost EVERYONE needs to heat, and this low amount of electricity can be afforded almost anywhere. Especially when this electricity is partially produced through solar energy. This is the future of sunny countries, their enormous wealth in solar energy! Solution for a better world
II. Humans need three things: food, drink and warmth. The latter is our Passion.
III. Summary:
Let us help the older generation by continuing to carry their knowledge and successes on!
Let us help unemployed youth in other nations by showing them what is doable!
Let us help ourselves by creating jobs that didn´t exist before!
Let us help Mother Nature by not creating more disposable commodities!
Will anyone help us make this public?
Comments December 2017: 1. …a lot of Syrians need such heater in the light of the power shortage. Please let me know what I shall do practically in order to make it realistic in my country Syria. I have a great network there and they will be able to start this Project 2. Dear Rainer Dubrikow . I get the CDs yesterday. It looks great!